5 reasons for slow growth of curls
29 April 2019
Many have noticed that the longer they grow their hair, the slower they grow. This is a fairly common problem among women with damaged strands.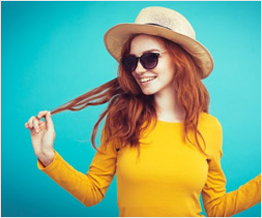 The truth is that if there is no medical reason that prevents the follicles from producing new hairs, the curls stay around the clock in the process of growth. You don't notice the changes because the resulting length cannot be maintained, as dry and weak tips break at the same speed as they grow.
How to preserve the beauty of long hair
Stop constantly tying the tail. This causes brittleness, especially if you like to experiment with staining. Tight tail creates too much tension, which damages the hair follicles and eventually causes a gradual loss.
Start investing in quality homemade hair care products. Consider whether it is more profitable to purchase several effective cosmetic products that are easy to use at home than to spend a lot of time and money in the salon. In addition, professional makeup cosmetics usually have a large amount and economical consumption, so that will be able to replace more than one visit to the stylist.
Comb before washing, not after. Frequent scratching and physical damage will damage the wet strands. But if combing and drying are vital for you, start the movement with a comb from below and gradually rise upwards. To facilitate this procedure, choose emollients for hair care, such as indelible conditioners and nourishing serums. Also, famous hairdressers recommend using natural bristle brushes instead of plastic scallops, since such tools evenly distribute the natural moisturizing substances produced by the scalp.
The secret of dull, lifeless strands is that their owners use the same shampoo year after year. There is an addiction to cosmetics, which you use regularly. Therefore, better stock up with several different hair care products and alternate them.
Say goodbye to cotton pillowcases. Such material provokes strong friction, which causes tangling and damage. We recommend to pay attention to smooth satin fabrics, as they have a softer surface. If you are not sure if such a new thing will cause electrification, try anti-static sprays.
A beautiful hairstyle enhances self-confidence exponentially, so it is important to keep curls and monitor their condition. Let the care procedures become a habit for you, then your hair will delight you with beauty, smoothness and fast growth.